29. June, 2020
The history of slot machines and their endless possibilities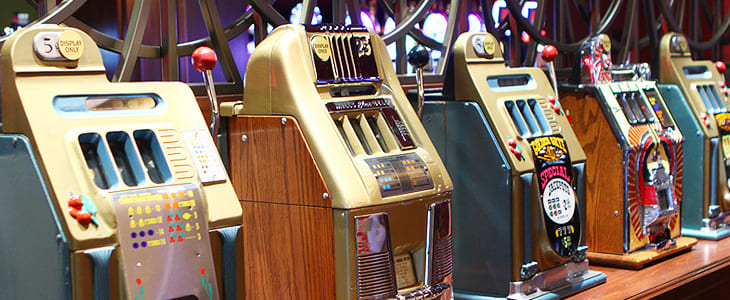 Nowadays almost everyone knows or has heard of slot machines and online slot games.
These games have morphed into the biggest source of entertainment found both online and offline.
Slot machines have quite the interesting history and weren't always so readily available with copious amounts of themes and features to pick from.
A JOURNEY THROUGH HISTORY
Slot machines are also referred to as the one-armed bandit, a name it earned from its original design. If you've never visited a land based casino or played an actual slot game in a casino arena or land based establishment this might seem quite foreign. As virtual slot machines don't allow you to play with the iconic "one arm", some slots try and imitate it, but nothing beats the real deal.
The online casino industry is rapidly expanding each year as technological advances. Now you can access the latest games from anywhere at any time via the best casino mobile device too instead of being bound to your desktop computer alone.
SLOTS THEN…
It might seem impossible to believe but the first electromechanical gaming machine was created in 1964. This machine had the ability to award up to 500 coins per game round. While this game was a thrill for players at the time the real gambling entertainment/ revolution only started a little over a decade later.
In 1978 players had the opportunity to test out the very first video slot in Las Vegas. This machine came with a giant, 19-inch color monitor. From there it was one advancement after the other with the next big step for gambling being the creation of online gaming machines. The first online gambling machine was only created in the middle of the 90s. The first web based casino ever took the lead on this project when they realized players were looking for a web-based version of the one-armed bandit.
From the creation of the first online slot machine the changes and developments in the virtual slot machines could be seen by players themselves. The games started improving not just in development sense but in terms of graphics and soundtracks.
AND SLOTS NOW
When entering an online casino today you will find hundreds of different online slot games to choose from. These games come in all shapes and sizes ranging from the classic 3-reel fruit slots to more elaborate video slots and even Virtual Reality video slots.
There are countless slots to choose from with new ones released daily. And each come with a unique / exciting theme, different bonus features and an exciting jackpot amount to play for. You don't have to stick to fruit slots if you don't want to and you don't have to play only 10 paylines. The slot machine today is so versatile allowing for players to test and try different varieties on a daily basis.
The best part is that software developers are constantly finding new ways to improve and enhance their slot offering to provide a more immersive gaming experience. In the near future slot machines could be played like video games while still offering great cash wins. History has proven that when it comes to slot machines the possibilities are endless.